White water rafting is one of the most adventurous activity you can ever do near Mumbai and Pune: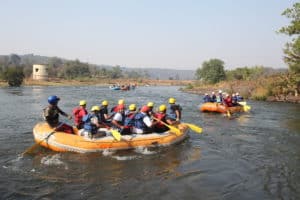 It is a Group activity but also can be enjoyed by a single person.
White water Rafting Day Picnic booking is done at Kamath Nature Resort Raigad   and starts with a Tasty Breakfast at the resort.
Then you have to leave for the Rafting site at Vile Gaon,Kundalika river where yu will be initially given a small training of 15 minutes followed by a trial run.
or email honm at aken Upstream to the Kundalika White Water Rafting site where you will enjoy the activity and travel through the river for approximately 5 to 8 kilometers.
Click here for White Water Rafting Packages and to book your Rafting exorience,Speak to Kaviraj Patil at 09869279937 or email him at reachus@kamathresidency.com.
Visit www.kamathresidency.com for more details.
Other Adventure Activities Include as follows,